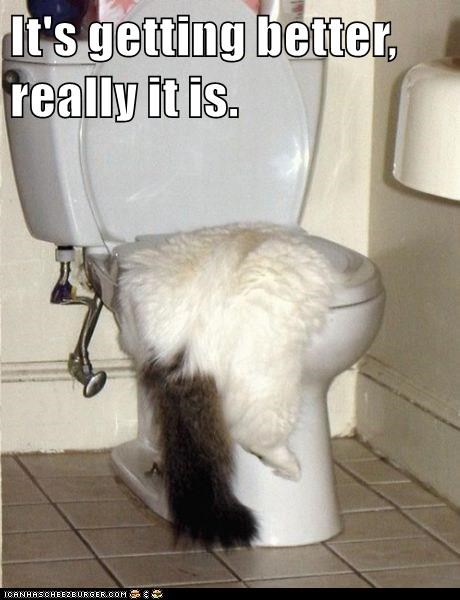 lupus.cheezburger.com
Earlier in the month, I posted about an issue I was having with
constant vomiting
. My GP added a number of anti-nausea drugs into my cocktail.
Then I started having abdominal pains, and she added a laxative. It helped.
So now, I've got lots of drugs to keep everything moving in the right direction.
But I still have an issue with nausea.
Yep, the medication's helped, but the problem hasn't gone away.
It's like morning sickness (and I am definitely not pregnant.)
With my first child, I lost weight in the first few months of pregnancy because of morning sickness, so when I say it feels like morning sickness, I mean it's pretty awful.
For the first few days of this, I lived on Ensure (it's the only meal replacement I could find that appeared from the ingredients list to be free from lactose and gluten.)
After a while, I added some solid food back, in the middle of the day. A couple of times I tried eating in the evening as well, but found I was really sick while I was trying to sleep.
Today, I tried eating breakfast for the first time since this all started. It was a big mistake, and I won't do that again.
What's causing the problem? I have no idea, and my GP doesn't seem to have any idea, except that I have always had gut problems. This just seems to be my normal reflux and irritable bowel just asserting themselves quite a bit more than usual.
Right now, I'm just trying to be very kind to my gut, being very careful about lactose and gluten, trying not to eat too much when I eat, and being careful to eat plenty of fibre.
One thing that lupies learn to do very well is to adapt to whatever lupus throws at us.
I'm adapting.
Related post:
Keeping the Bucket Close