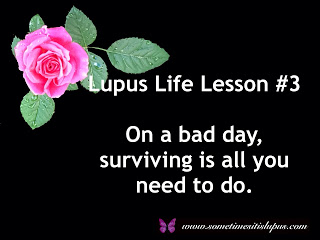 After a couple of weeks of having no energy, and lying exhausted and in pain on the couch, I'm
starting to want to do things again.
I've been going for walks again. I've learned my lesson - I'm not going for hour long walks as I did a while back - which was great until I crashed. Now, I'm taking a couple of ten minute walks each day - breaking things down and trying not to overdo it.
Today, I've dug out my Calorie King app and started to track what I eat again.
I'm getting restless, wanting to do more than just sit mindlessly in front of the television.
I'm starting to
care
again.
That means one thing. I've been having a couple of good days. (Hopefully, it could be the start of a good week, month, dare I hope year?)
The difference between a good day and a bad day is simple. On a bad day, I have only one aim - survive. (On some bad days I don't care if I even achieve that.) Sometimes I feel a little frustrated I don't have the energy to do anything, but most of the time, I don't even have the energy for that.
On a good day, I feel like doing worthwhile things. I have energy, and my pain levels are manageable, and I remember that I'm more than just a diseased lump lying on the couch.
I used to feel bad about all I didn't achieve, once I started to feel better. But I've realised that's just a waste of precious energy.
On bad days, all I have to do is survive.
On good days, I can do practically anything, as long as I'm careful with the energy I have.