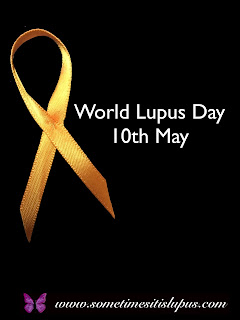 It's World Lupus Day lovely lupies!
Since last WLD, some lupies have fallen in the battle, and some newly-diagnosed lupies have joined the fight.
One day this disease will be beaten. But until then, we will be here for each other. We will offer whatever support we can. We will share whatever resources we have access to, and we will get through this together.
To mark World Lupus Day, the Lupus Knows No Boundaries e-report is now available on the World Lupus Day website.
(While you're on the World Lupus Day website, you might sign the petition for the World Health Organisation to give more attention to lupus.)
And on a much smaller scale, here on Sometimes, it is Lupus, our new r
esource for newly diagnosed lupies
has just been published. A big thank-you to the lupies who contributed their advice to that.