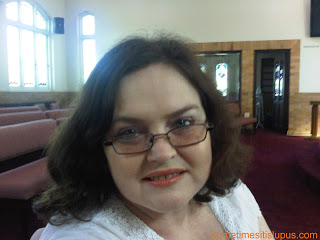 Iris Carden
My name's Iris Carden.
I'm a Uniting Church minister (retired through ill health) and a former journalist, in Australia. I have a bachelor's degree in journalism and literature, and a master's in theology.
I was diagnosed with lupus in 2006. I'd had lupus symptoms on and off throughout my life up to that point, but no-one had "connected the dots."
In May 2011, when International Lupus Day happened, I joked that the best way to celebrate Lupus was with a handful of painkillers and a long nap.
Sometimes, it is Lupus is an attempt at something more constructive - helping to create awareness of my condition.
I started with the Blog, what you find on the "Home" tab here.
The Sometimes, it is Lupus Facebook Page, the Sometimes, it is Lupus Google + Page and the Sometimes, it is Lupus Pinterest Board (along with Lupus Book, and another book I'm working on now) have grown from that.
The Lupus Business Directory
has also grown out of that as a way to help promote businesses owned/run by people with chronic illnesses, as a means to help us help ourselves.
More recently, as a project for World Lupus Day 2013,
The Warriors' Wall
was established, as a means to allow lupies around the world to share what they'd like the world to know about lupus.
I'm divorced, a single mum of two, now adult, offspring who are currently both full-time students. I also live with assorted animals - and if you go across to the cat's blog, you can get to know all of them through the cat-it-orials.
While you're here, I'd love to hear back from you. Just click the "comments" section after any of the posts and tell me a bit about how and why you came to this blog, and if there's anything you'd particularly like me to talk about. If you want to contact me directly, my email is iris@sometimesitislupus.com .