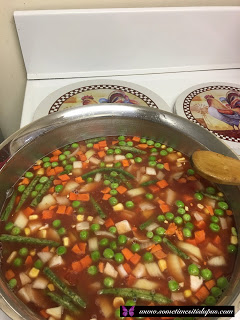 Minestrone, made with minimal
effort.
If you're like me, you really want healthy home-cooked meals. You just don't have enough energy to cook them.
This minestrone is one of my favourite quick-fix-meals. It takes very little effort, but is still healthy and tasty.
The first thing to remember is you need a big saucepan. The second thing to remember is there's no set amounts of things. You can put in as much or as little of each ingredient as you like.
Ingredients:
Canned four-bean mix or five bean mix, drained and rinsed. (It's important to rinse. The liquid they're canned in tastes bad and can give you a tummy pain.)
A peeled and chopped up onion (this is the most work in the whole recipe, so leave it our if you're really short on energy.)
A can of crushed tomatoes.
Some tomato paste.
Vegetable stock powder or cubes or the more expensive liquid stuff if you think it's any better.
Frozen mixed vegetables - the ones cut into small pieces.
Pasta (I use gluten free) or rice.
Herbs: I used garlic, black pepper, basil, oregano, chives and parsley.
Some dried red lentils, washed.
Water.
Put it all in the pot, bring to the boil and simmer for 10 to 15 minutes until the pasta or rice is tender. (If you use whole grain rice, it might take 20 minutes.)
Leftovers can be refrigerated and reheated.